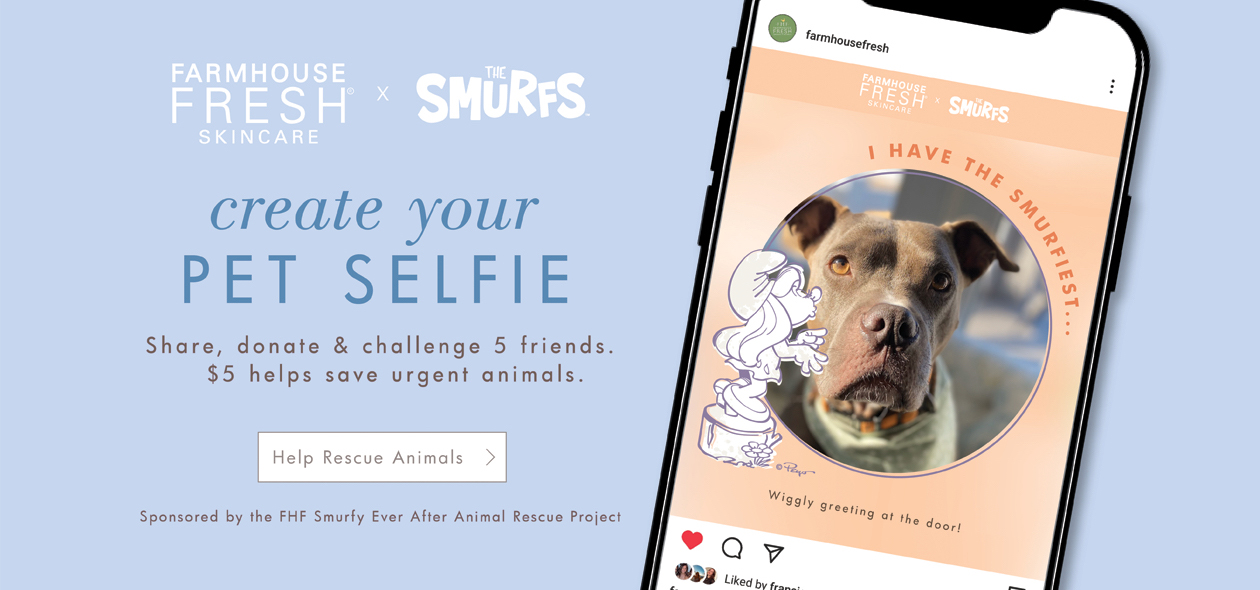 AN EPIC, LIFE-SAVING SKINCARE COLLAB!
Discover a world of blue wonders that rescue animals nationwide. FarmHouse Fresh®, the leading farm-grown skincare company, has joined forces with the lovable little blue creatures to launch the FHF x The Smurfs™ collab – a limited-edition 80s collectible dream that transports you straight to the heart of the Smurfs' enchanted forest.
The best part? Every purchase from this extraordinary collection makes a real difference. $1 from each product goes to the FHF Smurfy Ever After Animal Rescue Project, a philanthropy initiative made up of 9 nonprofit organizations helping urgent animals coast-to-coast across the U.S. From elephants to donkeys to dogs – animals big and small are being rescued through your purchases!
The FHF x The Smurfs™ collection includes six products infused with hydroponically-grown botanical microgreens, exotic blue botanicals, and fresh organic fruits from local farms. You'll find everything from a whipped Smurfcake body mousse to a calming chamomile cleanser, a brightening Smurfberry mask, a dewy Blue Lotus gelée moisturizer, a juicy plum-tinted lip balm, and a soothing Smurfsoda fizzer with a surprise Smurfy fortune inside!
But there's more – this collection also features exclusive charitable merchandise. From stylish trucker hats and scarves to coffee mugs and more, these sought-after Smurfy collectibles donate 100% of their profits to the FHF Smurfy Ever After Animal Rescue Project.
Ready to be part of a season-long celebration that's saving animals nationwide? Join the Smurfiest Pets Selfie Challenge! This free selfie generator features Smurfette who kisses your pet – all to encourage donations to the FHF Smurfy Ever After Animal Rescue Project.
Participants upload their pet's photo and then caption what's "smurfiest" about them. Resulting pet selfies can be downloaded, or shared to Facebook & Instagram. Participants are asked to make a donation to the FHF Smurfy Ever After Animal Rescue Project. Then, asked to post their selfie and nominate a minimum of three people to do the same, all within a 24-hour time frame. The free generator is found here!
Let's make this a Smurfy season to remember!

Discover FHF x The Smurfs™ now at farmhousefreshgoods.com.
Back to the news