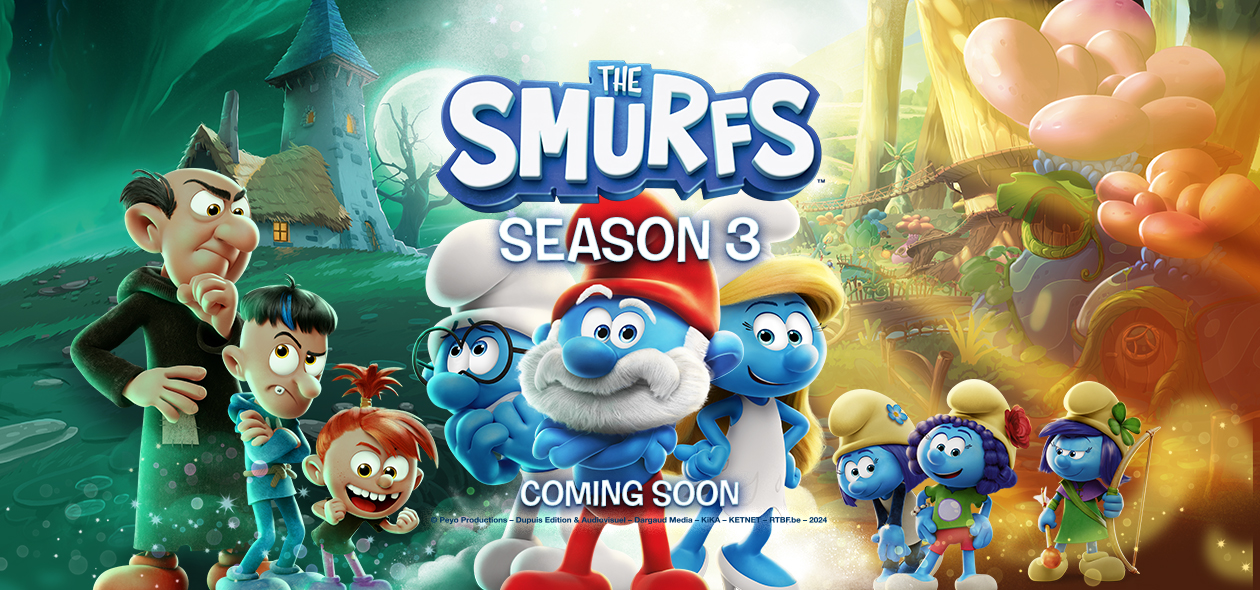 A third season of the global hit series The Smurfs is in production!
In this new Season, the chaos and hilarity of our beloved blue troublemakers takes up where it left off, and with new characters and elements bringing even more fun to the mix. Not only will we rediscover the original 100 Smurfs, but we will also meet new Smurfs girls, each with her own specific trait and unforgettable personality. These new heroes will provide a burst of comedic energy as they will complicate daily life for Papa Smurf and Willow, while confusing and disrupting Gargamel's evil plans.
There will also be new villains, posing additional threats to the Smurfs. Naturally, Gargamel will still reign as king villain, but he will be joined by his niece and nephew, Dwayne, and Rowena, who are often dropped off at his hovel to spend the weekend. These two pre-teens are nothing but trouble for the Smurfs—and for Gargamel, too.
Then there's Voltaire, a young dragon who lives in a cave. Practically all the Smurfs walk on tippy toes around Voltaire, afraid of his "bark" and his ice-cold breath that can freeze you solid. One Smurf, however, Lily, thinks he is the sweetest beast in the land.
Finally, in this third Season, we will discover for the first time on TV: The SMURF GIRLS' VILLAGE, a magical and colorful place, hidden in the forest and filled with Flower bulb-shaped houses.
These new elements will enrich the unique universe of Peyo's Smurfs with novel adventures and brand-new comedic situations. Smurf your seatbelts and get ready for the ride!
The Season 3 of The Smurfs will be broadcast worldwide by Nickelodeon, as well as on Wildbrain TV in Canada, from the 3rd quarter of 2024.
© Peyo Productions - Dupuis Édition & Audiovisuel - Dargaud Media - KiKA - KETNET - RTBF.be - 2024
Back to the news