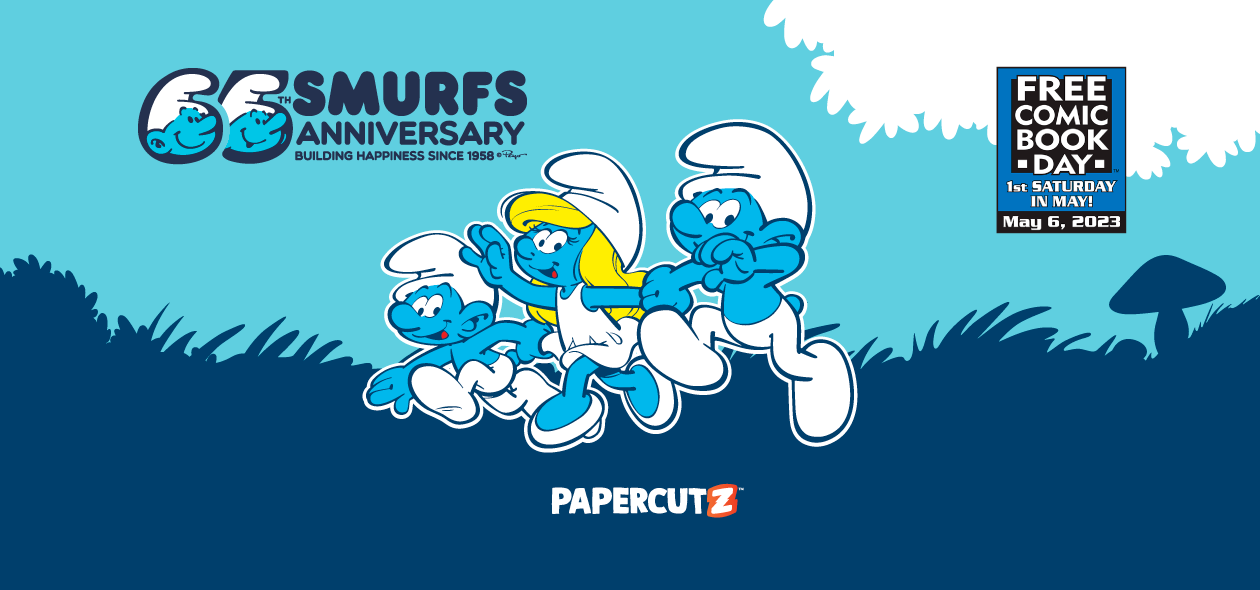 In celebration of the Smurf's 65th anniversary, Papercutz brings readers from paper to the metaverse in this special augmented reality comic!
This Free Comic Book Day, look for the:
First-Ever Smurfs Augmented Reality Comic!
65 years ago, legendary Smurfs creator Peyo drew the first Smurf. On Free Comic Book Day 2023 (May 6, 2023), the Smurfs jump off the pages with a brand new Augmented Reality comic from Papercutz. The FCBD issue, celebrating the 65th anniversary of the franchise, will include three original stories by Smurfs creator Peyo, two of which have not been published in English before: "The Smurf from Outer Space," and "Smurfs and the Robot X-XIII." Among these classic pages, readers will be welcomed to enjoy a new dynamic reading experience with pages that activate through a virtual environment where people are increasingly spending more time.
Papercutz is proud to present this augmented reality FCBD issue for fans to pick up at their local comic shops for free on May 6, 2023– where they'll immediately be able to activate a digital Smurfette to pop up off the cover and interior page of the issue!
This Smurfs 65th anniversary special for Free Comic Book Day will showcase 65 years of evolution for the Smurfs franchise, and represent a major step. Combining the timelessness of the classic comic book experience with the exciting new frontier of the metaverse, this issue is an ode to the past and a vision for a smurftastic future.
The three stories included in the book were created by Peyo himself. They include:
"A Kiss for Smurfette" - Gargamel has hatched another dastardly plot to put an end to the Smurfs. This time, he practices a dangerous potion on Smurfette, turning her into a frog. Will Gargamel's plan work? Or will the Smurfs find a way to stop him and return Smurfette to her natural form?
"The Smurf from Outer Space" - When Lazy Smurf gets lost at night, he meets a Venutian named Brtt. After a brief conflict with Gargamel, Brtt's ship is destroyed! Can the Smurfs fix the ship of their new friend, or will Gargamel have the upper hand and finally get his revenge on his sworn enemies?

"Smurfs and the Robot X-XIII" - Brtt returns with his fiancee, chased by a robot sent from Venus because their parents don't approve of the union. The Smurfs try to help their friend, but Gargamel catches them! Will Papa Smurf and the Smurfs be able to save their friend, or will Gargamel finally destroy the Smurfs once and for all?!
Free Comic Book Day is an annual event happening on the first Saturday of May every year,
organized to promote comic books and comic book retailers to the general public, with over 2,000 stores taking part. You can find a participating store near you by visiting the
Free Comic Book Day Store Locator

.
Back to the news